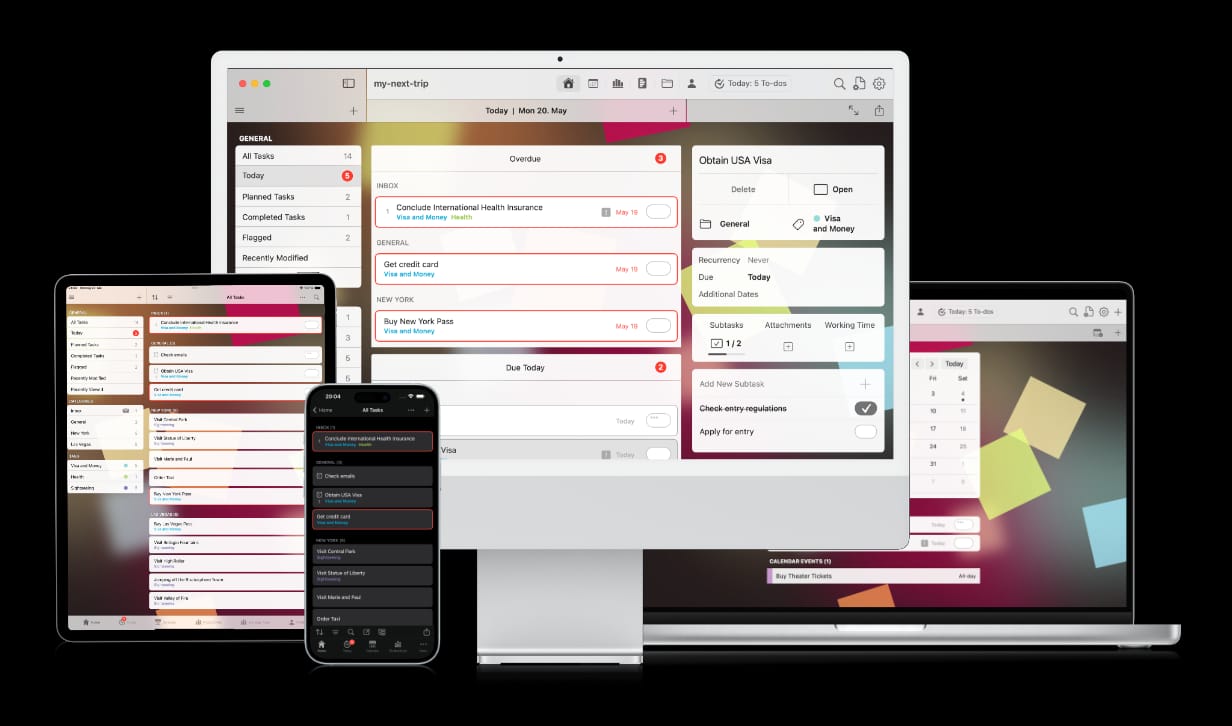 Your personal Todo List App ...
Assists you in getting tasks done. macOS and iOS.
... has everything under control
Have all today's tasks at a single glance and complete them step-by-step.
... works on macOS and iOS devices
Save your tasks in iCloud Drive to access them on your Mac, iPhone or iPad.
and improves your productivity.
Finish more tasks by using Tempodo's retrospect feature. Review what you did and how much time was needed.
Available now on the App Store.
iOS
macOS
Feature Overview macOS
List based management of onetime and repeating tasks
Basic (Free) Version and Pro Version via In-App Purchase
Four well-chosen perspectives provide a clear overview: list, today, calendar und reports
Dark Mode support
Evaluation of personal productivity based on created and done tasks (and planned tasks in Pro Version)
Time tracking with file export (PRO Version)
Integrated in macOS Calendar, Reminder, Notification Center (PRO Version), Menu Bar, Spotlight and Services
Task import for 2 file formats
Task list printing
iCloud Drive support to sync across different iOS and macOS devices (Pro Version)
Full transparency about personal data (no additional registration needed, Cloud usage optional)
Supported languages: English, German
Feature Overview iOS
List based management of onetime and repeating tasks
Basic (Free) Version and Pro Version via In-App Purchase
For iPhone and iPad
Calendar view with iOS calendar integration
Calendar events can be created and edited directly in the app (Pro Version)
Evaluation of personal productivity based on created and done tasks (and planned tasks in Pro Version)
Today Widget, Notifications (Pro Version), Share Extension, Siri, Siri Shortcuts, 3D Touch, Printing, Dark Mode (iOS 13+), Lock Screen Widgets (iOS 16+)
Time tracking and time tracking file export via email (Pro Version)
iCloud Drive support to sync across different iOS and macOS devices (Pro Version)
Supported languages: English, German
Release Notes
macOS: Current Version 1.33